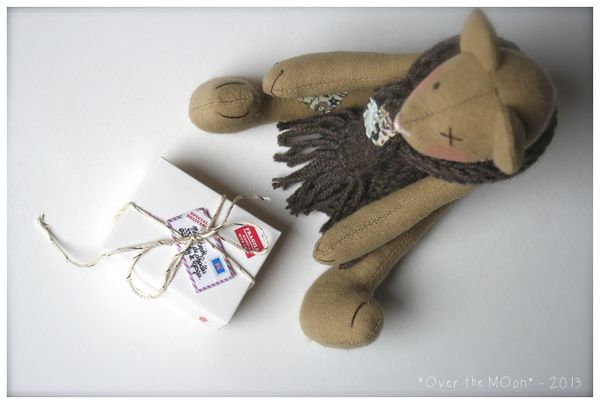 Hey there!! It's been a while!!!
I know, it's my fault...I took a break from the internet ;)
The thing is that I had to reduce Mattéo's (my oldest son) computer shedules last month, due to some pretty bad marks at school...
To show the example, and because I needed it, really,I decided I'd took a break as well ;)
And here you have the all shebang :D So now, back to what I wanted to tell you about ;)
This gorgeous little bear :)
You may (or may not, after all) remember that I had done two of them previously, I even called them Superted (both of them, yep, I'm that weird :D) because of one of my favorite tv program when I was a little girl.
I wanted to make one more, for a very special person's birthday, so did I!
It's made with a Tilda pattern, Tilda fabrics and a touch of Liberty.
He is wearing a knitted cap (with a pompom :)) and a knitted scarf, because it's been very cold out there lastly, isn't it?!
And because it was for a birthday, he had to be delivering a present and a letter.
I know, you get it now, I HAD to use my "World's smallest Post Service", the one I purchased last year and didn't really know what I'd be doing with, huh!!
Remember?!
Sooooo...did I ;)
And that's not all!! You know what?
Because it would have been senseless to deliver an empty tiny box, the box was filled with a teeny tiny little bear.
Oh!The love!
This tiny bear was made with a Gingermelon pattern, my very first Gingermelon creature for the moment, little Tedward.
I so love her work, she's a fairy.
Little Tedward normally goes with Bunnycup :) I'll make her very soon for my daughter, she asked for her, who would not?! :)
I had so much fun doing it, seriously, too cute <3
The pattern is tiny, but I reduced it for Tedward to fit in the box, not to mention this is a TINY creature!!!
Have a look, please !!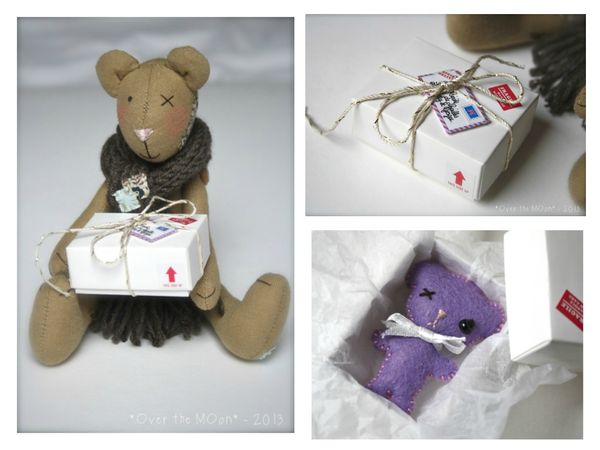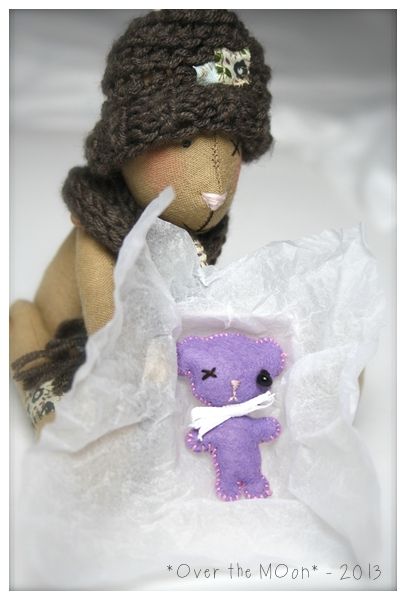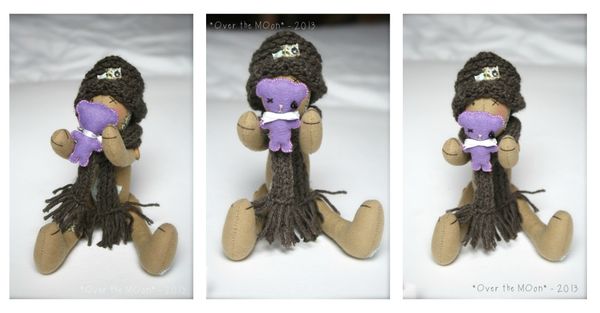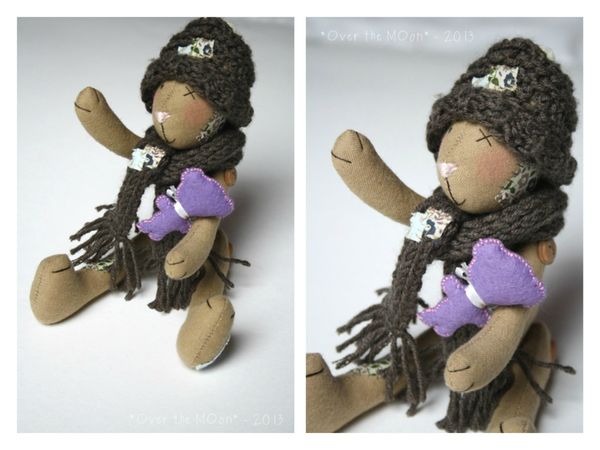 I so love him!! What do you think?!
Would you like to see him "alive" ?
I can do it for ya... Yep!!
I tried this iPad App called iMotion HD, and what can I say? I.LOVE.IT!!
It's so much fun!!!
Here is my little Tedward opening his gift and saying bye-bye to you sweet friends :)
Et voilà :)
I wouldn't want to leave without sending a HUGE thank you to you all,you really deserve it my lovelies, for that when I was taking my break, you were partying on here, without me, entertaining some life on the Blog, and for that, I couldn't thank you enough.
What a blessing to have you here, every day, even when I'm not around here, what a blessing when I discovered this morning that Colombia was following the Blog, many of you actually follow *Over the MOon*,Colombian friends and it's very new to me :)
Welcome Colombia, I love you too :) <3
You, lovely bunch, rock my socks!!
Thank you for the love, I'll keep it forever ;)
Well now, I guess I have to tell bye-bye as well!!
Much Love <3
See ya!!
Xox