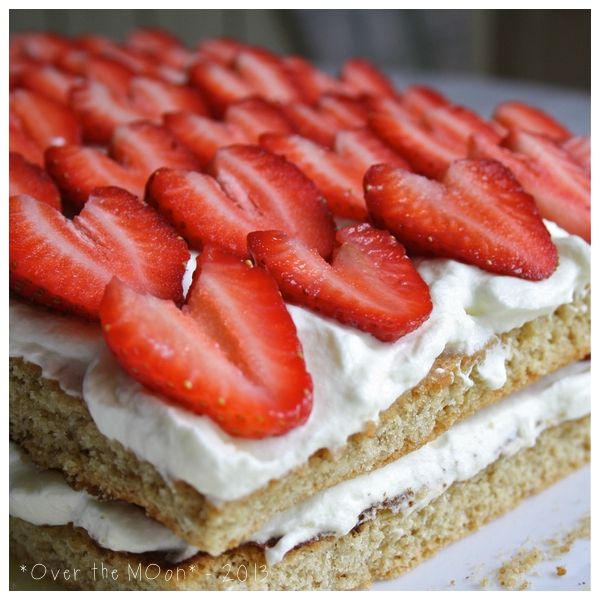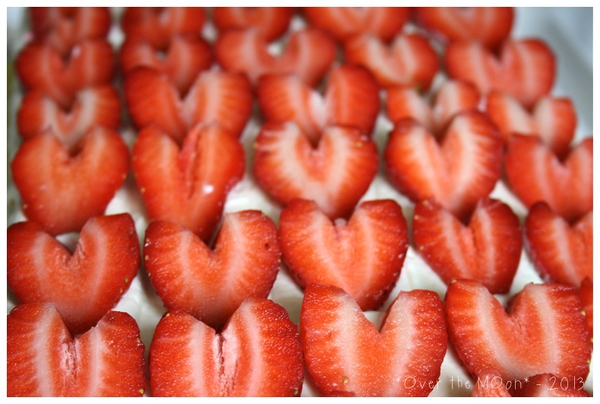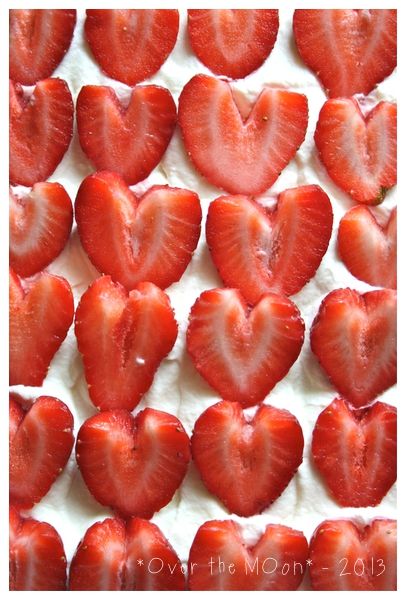 Hi there!!
How are you all?!
Have you stepped into summer yet?!
I did :)
The sun is not really shining,or let's say the weather is seriously crappy sad,
so we'd better put a touch of color,at least, in our meals ;)
I pinned this cake a few days ago, and fell in love with what I saw.
Those little strawberry hearts, crispy white whipped cream, oatmeals in the process...that was for me!!
I gave it a go last sunday, for mother's day, and it was a great success.
I won't re-write you the recipe here, Anu did it perfect, go check it out and give it a try!!
I will tell you why I loved this cake, though, for you to have a better idea.
First, it's easy peasy.You can't fail it.Seriously.Can't.Can not.
Easy baking for the sponge cake ; cut it in two pieces; put whipped cream onto the first piece; put strawberries (cut top of them in a V shape to make hearts) onto whipped cream, put second piece of cake onto strawberries.
Repeat.
You're done, and have a charming little cake, perfect for summer, and that would totally make it for a neighbourhood party, even for a Birthday cake!
I have to tell, you'll need to take your gentle time to assemble it nicely, but it doesn't have to be too perfect to have a nice charming look, so...Easy Peasy again.
I stored it in the fridge for kinda three hours before we ate it and it was almost perfect.
Absolutely yummy.Fresh and yummy.Perfect.Summer.Cake.
The only thing I'll change/flip, is that I would soak the sponge cake, just a bit, with some strawberry syrup, for a smoothy effect,but it was very good as it was too.
Last but not least,the thing I love the most, is it's look.
It's a beautiful cake,that you can totally make even if you never baked before.
I wouldn't be ashamed to show case it at school for the end of the year for exemple ;)
Some times, you got a perfect recipe but the cake doesn't show so nicely in the end, even if tastes heaven.
This one tastes heaven, AND can totally SHOW CASE friends!!
Yeah!
A big thank's to Anu from Nalle's House for sharing such a great recipe, and don't be shy, go check out her blog for more details about this sweety ;)
Have a lovely sunday!
See ya!!
XOX